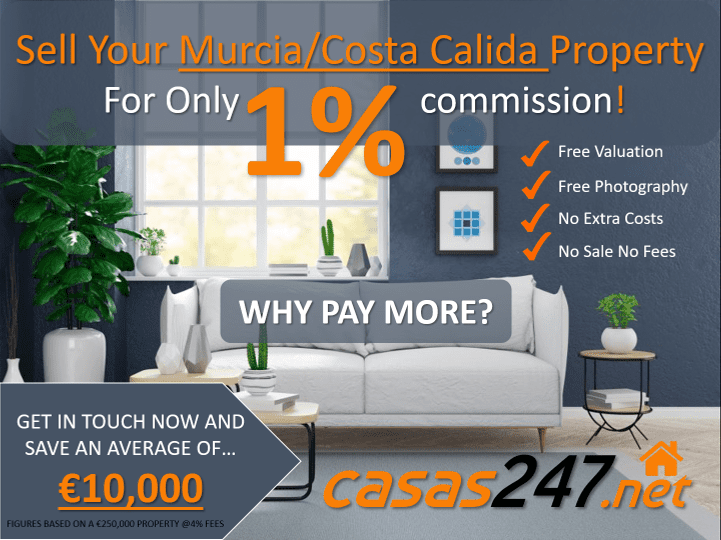 Murcia, Spain: December 2020 – By Casas247.
Sell Your Spanish Property for 1% in Murcia Costa Calida Mazarron!
At casas247.net we are determined to deliver the best value full service an estate agent can provide. In addition, we guarantee there will be no extra fees! Your property will receive full market exposure through major property portals, an associated agent network around Europe and benefit from our growing franchisee initiative.
Casas247.net does not charge upfront fees; you only pay when we sell your Spanish property at the notary!
Why not get a free valuation by visiting us here FREE VALUATION
You will be delighted with the lowest-cost estate agency in Spain. Why not try try us now! – You have nothing to loose.
The Spanish Property Market Is Unpredictable!
Here's what we are doing to adapt to the current circumstances and outlook
Spanish property agents have, historically, charged some of the highest fees in the European property market. Often asking 5-10% commission on resale properties, depending on regional economies and demand. Since the 2008 financial crisis, estate agent's fees have reduced a little; but on average, when you take added costs and terms & conditions into account; most property owners are still being charged around 4%. That's 300% more than a UK high Street estate agent charges!
When you consider Spain hits buyers with some of the highest purchase taxes in Europe (8-10%) plus land registry, notary and legal fees, this ultimately translates to the Spanish property buyer paying 11% more, on top of the asking price. But it gets worse, most property owners here in Spain also add another 4% onto the price they want to cover their estate agents fees. That's a whopping 15% the property buyer pays on top of the asking price!
This cannot continue, it's killing an already fragile market. At Casas247.Net, we have slashed Estate Agents fees to just 1%, NO Sale NO Fee! We only charge on completion of the sale, with no upfront costs to the property owner. These huge savings – on average 5,400€ – provides extra wriggle-room for sellers to negotiate a favourable price with their buyers, thus, bringing the price of selling and buying property in Spain down to a more affordable rate.